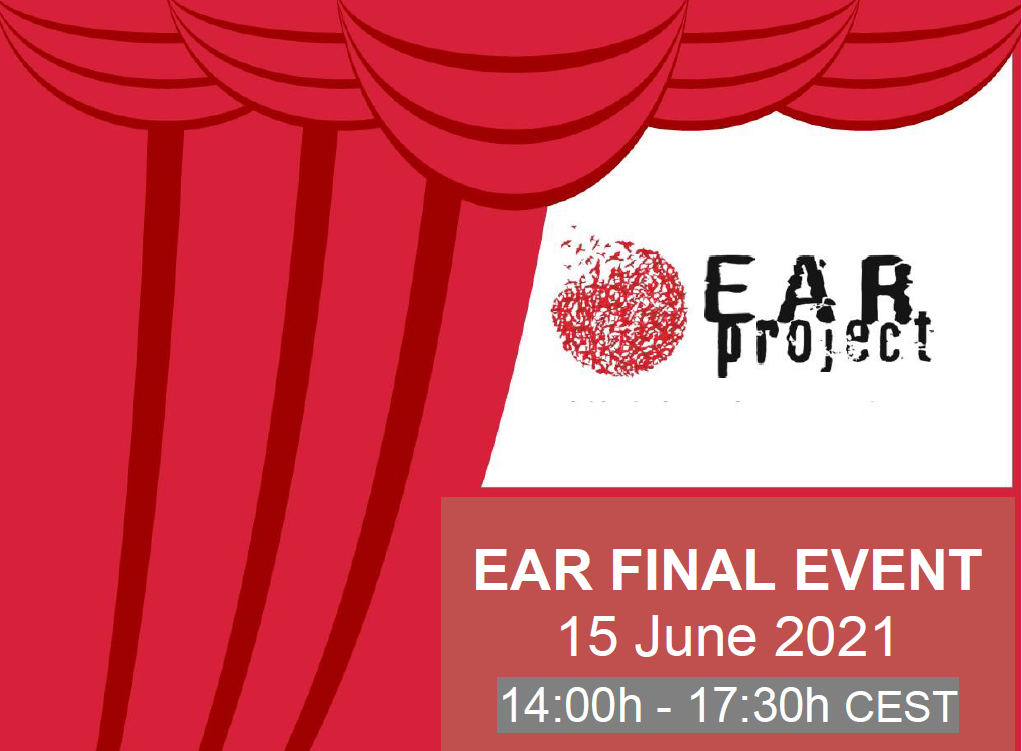 On Tuesday 15 th June 2021 the final conference of EAR project will take place.
The event because of the restrictions due to the pandemic organised by the University of Florence will be held online.
EAR Final Conference is an opportunity for teachers, students, researchers, and decision/policy makers to having illustrated the key features of the EAR Methodology, focusing on its value and challenges, to draft policy recommendations for EAR's sustainability and its wider adoption.
Download here the poster of the event
Preliminary agenda
14:00 – 15:10: Greetings, presentation of EAR methodology and findings from its implementation in each partner country
14:00-14:15: Greetings and Introduction – Prof. Maria Ranieri (University of Florence – Italy)
14:15-15:00: Project presentation and main findings – Chair: Kostas Diamantis Balaskas (Action Synergy – Greece)
15:00-15:15: Wrap-up and conclusions
15:15 – 15:30: Introduction to the working sessions and set-up of the working groups
15:30 – 16:30: Parallel working groups aiming at highlighting value and challenges of the EAR methodology and producing policy recommendations
The working groups will be held in national language of the partner countries (Greek, Italian, Spanish, Portuguese, English)
15:30-15:50: Presentation of one example of EAR implementation focusing on the value and challenges of the EAR methodology
15:50-16:10: Group discussion focusing on value and challenges of EAR methodology in terms of sustainability and transferability to draft policy recommendations.
16:10-16:30: Virtual Coffee Break
16:30 – 17:30: Plenary session on the policy recommendations emerged from the working groups and wrap-up
16:30 – 17:00: Presentations on policy recommendations collected in the Parallel Session.
17:00 – 17:30: Wrap up and conclusions.
If you are interested to participate, please fill in the registration form
https://docs.google.com/forms/d/e/1FAIpQLSenQSa4SM5LuoOrzUKEest7C1Ru8Oq2iN_MzIxUfGHkBkf0Lw/viewform